When I was playing NL5 and NL10 I was really considering about getting coaching, but the price was too high. Now that I have overcome my difficulties and my poker is going strong, I'm super motivated in giving you guys the help that I would have wanted back then, with a reasonable price.
I want to be more than just a coach. I want to be your poker buddy and your mentor. Whenever you are going through rough time or you have just a few poker related questions that are bothering your mind, you can always send me a message and we can discuss about stuff.
I like to believe that my teaching style is quite beginner friendly and my prices are probably the most affordable on the coaching market. You can check some of my videos here.
GRAPHS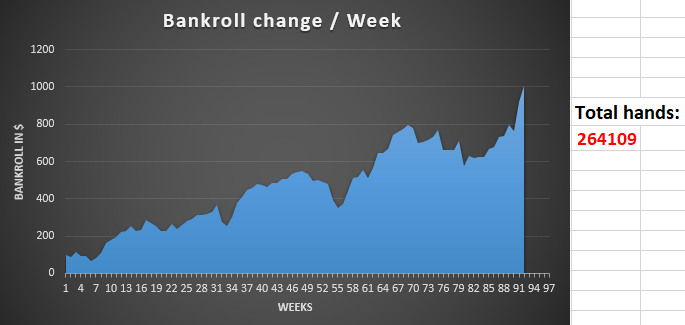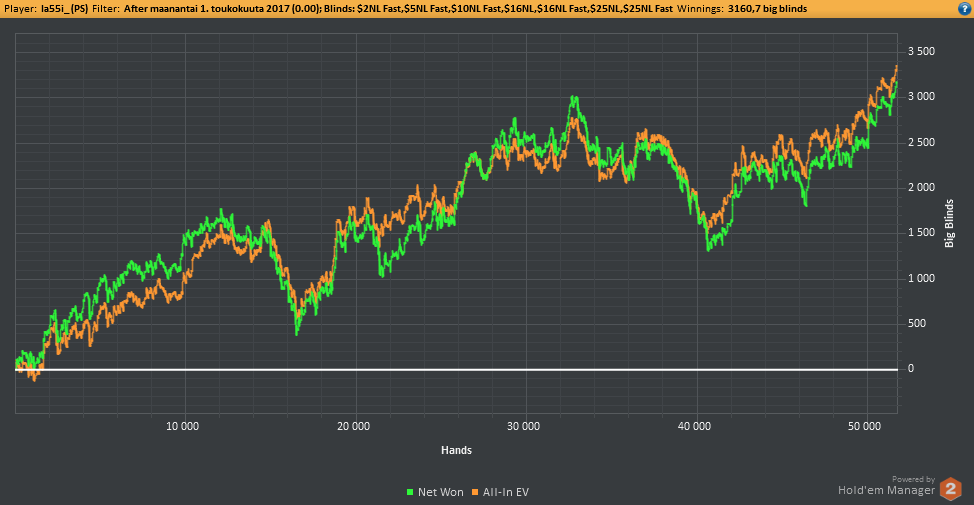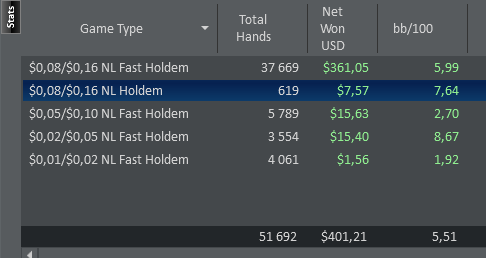 TESTIMONIALS
I've used la55i's service in october and was very satisfied. I could definitely find some leaks and spots where i have to work on. The big value for me weren't the leaks but rather the fact that u have someone you can talk to about the self-doubt in your play. The price-performance ratio was really good and i would take his service again.
I used the possibility to take starter package from la55i. Contact via skype was very easy and answers to questions came very quick. Because i stopped playing zoom and changed to regular tables there was a
too small sample size for stats analysis, so he suggested to make a longer video while playing. He analysed my gameplay and made some conclusions and send me some additional material to improve my gameplay. Big Thank you for that! The session i played for analysis was mostly to play very smooth without having much trouble spots. So no really big leaks where detected but some smaller ones, which i wouldn`t havent found on my own.
I was thinking about getting a poker coach for some time, but I was not sure if it is worth it. Then I found la55i's video review opportunity, so I decided that I would give it a shot, and boy it was worth it! In his very thorough and detailed review he pointed out mistakes that I had no idea I was making, and also highlighted my good decisions. All in all, it was money reeeeeally well spent, because I learned a lot from it. Oh and btw la55i is just an overall great guy, with a kind spirit who is a pleasure to chat and work with!
So, what to say… I finally decided to write down this because this guy really deserves it. He helped me in so many ways I can't even count it. I started to work with Lassi in December 2017 and from that time I went so long way… from the absolute newbie in poker to someone, who has the basics knowledge of poker, especially thanks to Lassi. We have tons of messages on Skype; he always helped me with anything I asked him which gave me a lot. I also had some session reviews from him, and they were the nuts! He showed me every leak I did and solution in simple, easy to understand form. But the most important thing, he is not only a coach for me but also a friend with who I can talk about anything. I can only recommend him, 11/10
I can recommend in 100% Lassi, he helped me a lot, and very very fast, I was breakeven on NL10 for some time, now I'm moving up the stakes. He is very kind person and very cooperative, you just need to listen what he says. He didn't asked me to write this, but I feel that he needs some good feedback here 
The stat analysis and video review have been performed very fast. The report is precise, written in excellent English and easy to follow . The advice is backed by solid arguments so that I could easily understand why a stat or move in a hand is good or bad.
When initially discussing options with the coach, he was very amiable and offered solutions based on the initial discussions we had. The coaching report i received was very thorough. It referred to specific hands (and times) on the video I had recorded of my play, so that I was able to understand the context of the explanation. This was very useful. The language used was very clear and easy to understand. I have been a little more confident in my sessions following the review and will aim to continue implementing the ideas discussed. The rates charged for the amount of work la55i has put into the report is excellent value for money. Overall, a fantastic service. I will definitely continue working with this coach as I navigate my way through the microstakes. Great job la55i. Keep up the good work.
I'd been considering getting a coach for a while and heard from many different people of how valuable coaches can be. I'd shopped around and quickly realised that coaching isn't cheap. After la55i had given me lots of feedback on some of my hand histories in forum threads I discovered that he was offering coaching for just €30. He gave me very quick and detailed feedback on my database, statistics and 30-minute video session, pointing out some of my strengths and weakness. On top of this he continued to offer advise to me and occasionally listened to my rants when I had a bad session. 100% recommend. Great value for money.
 I booked the starter package and it was totally worth the money. I will book a 2nd session with la55i right before I want to move up to the next limit.